Certificate of Inclusive Leadership, Cohort 2
Certificate of Inclusive Leadership In Professional Sports (Cohort 2) Complete
Over 50 Professional Sports Leaders Have Now Completed the Certificate
Austin, TX - October 6, 2022 – Pro Sports Assembly (PRO) and RISE have announced the second cohort of the Certificate of Inclusive Leadership in Professional Sports recipients – a cohort of 31 sports industry professionals from across the country that is now better equipped to discuss and address matters of racism, diversity, equity and inclusion within their industry and beyond.
The 31 participants underwent a series of workshops, which were designed and led by RISE, the national nonprofit that uses sports to combat racism and unite diverse communities. The courses offer a hands-on opportunity to discuss critical topics and issues related to inclusive leadership and provide an understanding of diversity, equity and inclusion (DEI) core concepts through RISE's multifaceted curriculum, which covers a wide range of topics and skills that increase an understanding of culturally competent and fair leadership.
"The best leaders are intentionally inclusive leaders. It is imperative for professional sports leaders to continually refine their DEI skills to foster strong, healthy and fair cultures in their organizations - especially for retention and recruitment efforts today," said Ann Seeney, Chair of Pro Sports Assembly and Chief People and Diversity Officer at US Soccer. "We are proud of the dedication the participants have put into receiving their certificate and look forward to supporting the growing impact they have on the industry and beyond."
"Sports organizations and sports leaders have a tremendous responsibility to lead in the Diversity, Equity, Inclusion and Belonging space," said RISE Chief Program Officer Dr. Andrew Mac Intosh. "They are responsible for building inclusive cultures within their organizations, as well as guiding their organization's leadership within communities. Doing that requires them to be aware, educated and confident. This program provides them with that knowledge and more importantly provides them a space where they can discuss challenges, strategy and best practices. In short, it provides a community of learning."
"I would recommend this certificate program to rising leaders who want to learn or champion matters of equity, racism, prejudice, diversity and inclusivity. It offers a safe space to get educated, ask questions and discuss a variety of terms and topics that impact our everyday lives both personally and professionally by demonstrating concepts of inclusive leadership," added Cleveland Cavaliers Senior Coordinator of Diversity, Equity and Inclusion Mary Kate Meals. "By walking through privileges, identities and biases we gain tangible tactics to impact our own organizations. If you want to learn your biases and privileges, engage in diversity of thought and hear from others perspectives within professional sports, this program is for you."
Meet the second cohort of professional sports leaders receiving the Certificate of Inclusive Leadership:
Casey Africano, LA Rams
Kenny Bunch, Dallas Mavericks
Esti Crumbley, Atlanta Hawks
Amanda Czajka, Pegula Sports & Entertainment
Kathryn D'Angelo, Buffalo Bills, LLC
Brittany Green, Oak View Group
Latisha Hanna, NVE Experience Agency
Tiffany Harrington, Ilitch Sports & Entertainment
Jeremy Kelley, Pegula Sports + Entertainment
Breanna Kellogg, Dallas Mavericks
Max Klepper, Ilitch Sports + Entertainment
Felicia Lamar, St. Louis Cardinals
Christina Low, M3C
Jenni Luke, San Francisco 49ers
Mary Kate Meals, Cleveland Cavaliers
Joda Parent, Texas Rangers
Ena Patel, LA28
Raven Payne, Cleveland Monsters
Victor Ribakare, Dallas Mavericks
Patricia Rios, Oak View Group Arena Alliance
Alexis Roe, Atlanta Hawks
Vanessa Scott, Houston Dynamo
Katy Semtner, Oklahoma City Thunder
Rachael Skinner, Dallas Mavericks
Nick Somoano, Houston Dynamo
Max Stiss, Miami Dolphins
Nicolette Trobaugh, Chicago Cubs
Vanessa Ward, Phoenix Suns
Susana Wolfe, Austin FC
Julie Cook, New York Gridlock Ultimate
About Pro Sports Assembly
Pro Sports Assembly is the association for professional sports business leaders. Together, PRO members create and foster a strong, healthy and fair workforce for teams, leagues, unions and venues. Developing cultural and gender intelligence enables the industry to drive innovation, bolster financial performance, capture new markets and increase customer loyalty. Collectively, PRO members are working to set the standard for leadership in professional sports. For more information on Pro Sports Assembly, please visit www.prosportsassembly.org.
About RISE
RISE is a national nonprofit that educates and empowers the sports community to eliminate racial discrimination, champion social justice and improve race relations. Through partnerships and programs, RISE inspires leaders in sports to create positive change on matters of race and equality. RISE programs build skills and create safe spaces to have difficult conversations. RISE equips students, athletes, coaches and administrators with the tools to be culturally competent, effective advocates for racial equity and leaders in addressing racism, prejudice, diversity and inclusion. RISE's vision is to create a nation unified through sports committed to racial equity and social justice. For more, follow RISE across social media @RISEtoWin and visit https://risetowin.org.
Contact:
Antoine Ibrahim
Unrivaled Group
[email protected]
Ian Cutler
RISE
[email protected]
# # #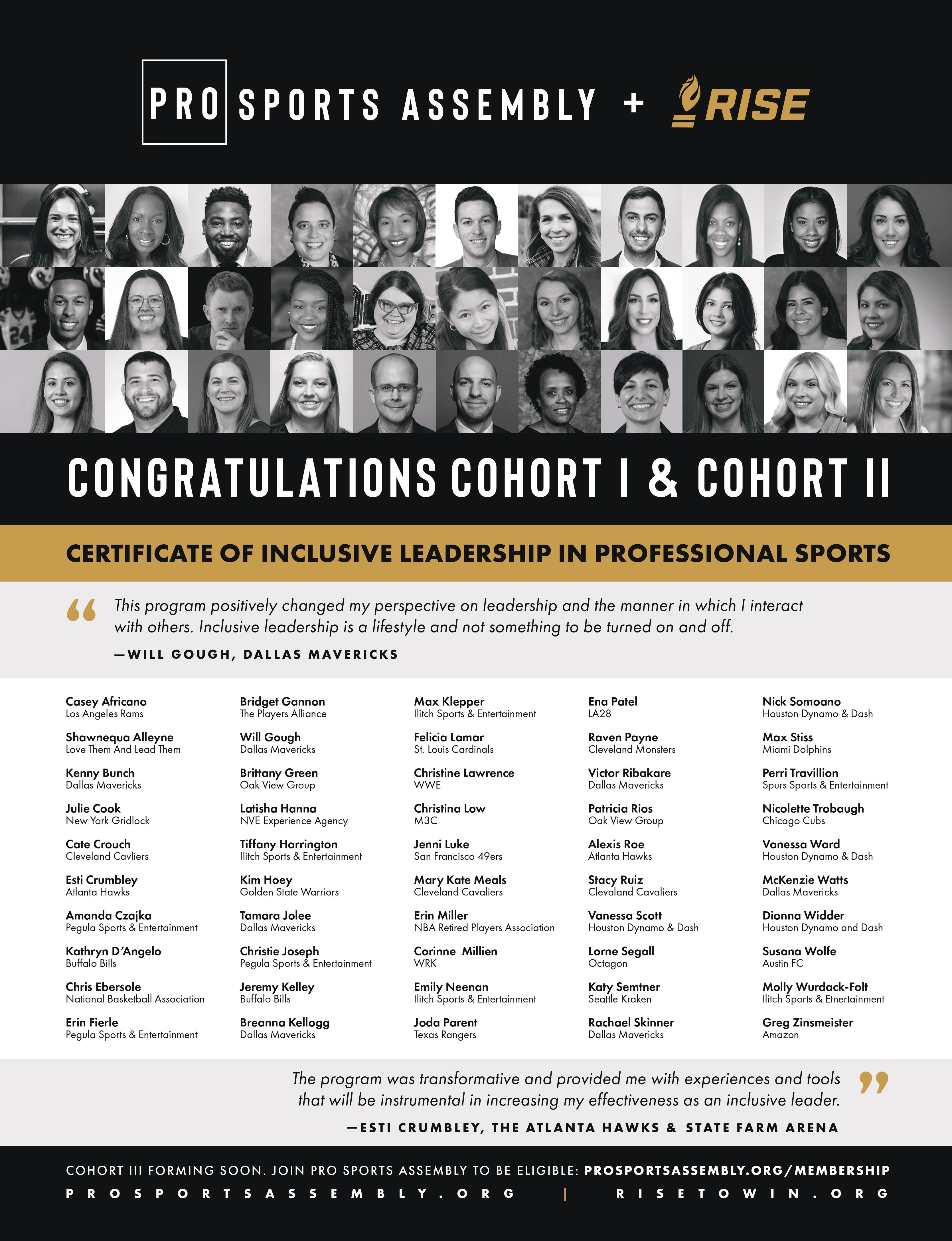 ---
Share this post: